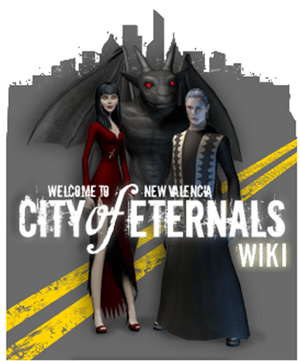 Welcome to The City of Eternals Wiki
We are a wiki for players of City of Eternals, by City of Eternal players.
We feel urged to tell you, that the game is currently almost unattended by it's developers, Ohai. Games.com announced in July 2010 already, that there will be no more updates for COE .
But the game is functional, though a formerly existing in-game tutorial for new players is not. Nevertheless there's help in sight: You can always ask more experienced players for in-depth help using the diverse chat options. Also before you buy ohais in game (for real cash) read this first.. Besides that you can group , chat, fight together, harvest , trade or craft things - or just dance around (some really do!)
So please help us further improve the wiki and spread the word to the community.
Want to contribute but not sure where to start? Check out this running list of Things to do. You can also go to your home and check on the Wiki Stickies. Or just browse the Contents section below
City of Eternals Wiki en Español CoE Wiki Sponsored Events Wiki Contests!!! The CoE Wiki Handbook CoE Offical News and Updates Having Issues with the new interface? CoE Forum Ohai Contribution Policy
About the game
City of Eternals is a Vampire MMORPG set in the city of New Valencia. As we travel from district to district we learn the stories, history and issues that New Valencians face each day. City of Eternals can be played by visiting CityofEternals.com or the City of Eternals Facebook page. Also please remember to rate the game on their Facebook page Also Make sure to visit The CoE Forum
The Demise of CoE
Much to the surprise of its player base, OHAI took the popular City of Eternals down in late 2010 after abandoning live development in favor of a bizarre kids MMO, "Project Unicorn Parade."  The City of Eternals MMO took advantage of the True Blood HBO craze sweeping the blogosphere and social media sites.  Though many of CoE's "whales" ranted on the interweb, CoE disappeared along with OHAI! as founders  Susan Wu and Don Neufeld and their top engineers melted away into the night.  CoE RIP 2010.
Contents

City of Eternals Wiki en Español